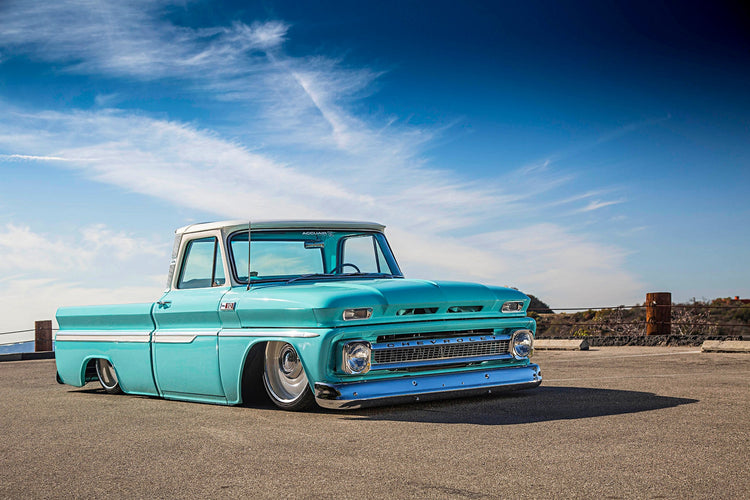 The Chevrolet C10 pickup truck holds a special place in the hearts of automotive enthusiasts as an enduring icon of American automotive history. Known for its timeless design and rugged reliability, the C10 has garnered a loyal following among classic truck enthusiasts. If you're a proud owner of a vintage C10 and looking to enhance its performance and handling while preserving its nostalgic charm, upgrading your front suspension with a conversion kit is a game-changing step in your restoration journey.
Embracing Modern Performance:
While the C10's original front suspension served its purpose during its time, modern advancements in suspension technology have raised the bar significantly. Upgrading to a front suspension conversion kit breathes new life into your classic truck, offering improved handling, enhanced stability, and a smoother ride. With modern components, such as adjustable coilovers or air ride, upgraded control arms, spindles, and drilled and slotted rotors, you can expect a more agile and precise driving experience that matches or even surpasses contemporary vehicles.
Elevating Safety and Comfort:
As a classic truck, the C10's original suspension might have seen decades of wear and tear, potentially compromising its safety and ride quality. A front suspension conversion kit replaces worn-out components with high-quality, modern parts, improving safety and ride comfort during long drives. By replacing old and tired springs, shocks, rotors, and control arms, you can enjoy a more comfortable and confident ride in your revitalized C10.
Choice of Coilovers or Airbags: Tailored Suspension Options
One of the standout features of this front suspension conversion kit is the freedom to choose between coilovers or airbags. Both options offer distinct advantages, allowing you to tailor your suspension setup to match your driving style and ride height. Coilovers provide adjustable damping and ride performance, giving you the ability to fine-tune the C10's handling and stance. On the other hand, airbags offer customizable ride height with the convenience of on- the-fly adjustments, delivering a smooth and comfortable ride. The choice is yours, ensuring that your C10's suspension caters to your individual style and driving needs.
Use discount code BLOG10 for 10% off your next order!