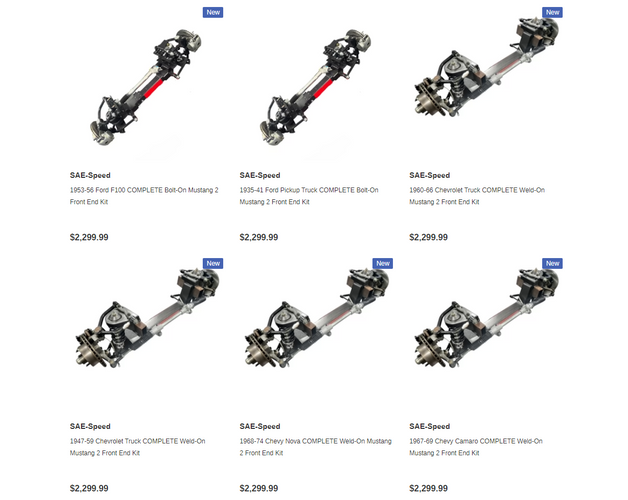 Compatibility with Your Vehicle:
The first and most critical factor to consider is the compatibility of the conversion kit with your classic car or truck. Ensure that the kit is specifically designed for your make and model, as different vehicles may have unique frame dimensions and mounting points. A kit that's compatible with your vehicle will not only simplify the installation process but also ensure that all components fit seamlessly, resulting in optimal performance and safety.
Quality of Components:
The quality of the conversion kit's components is crucial for the long-term performance and reliability of your vehicle's suspension. Look for a kit that includes high-quality materials, such as durable steel for the crossmembers, control arms, and brackets. Pay attention to the craftsmanship of the components, as precision manufacturing and robust construction are indicators of a reliable and trustworthy kit.
Suspension Geometry:
The suspension geometry of the conversion kit plays a significant role in how your vehicle handles and rides. An ideal Mustang II front end conversion kit should maintain proper suspension geometry to ensure optimum wheel alignment, minimal tire wear, and superior handling characteristics. Look for a kit that retains the original specifications of the Mustang II suspension to achieve the best possible performance.
Adjustable vs. Non-Adjustable:
Consider whether you prefer an adjustable or non-adjustable suspension setup. Adjustable coilovers offer the flexibility to fine-tune the ride height and damping settings, allowing you to customize your vehicle's handling and appearance. Air Bags also offer similar flexibility, with the ability to change ride characteristics with the push of a button. Assess your driving needs and preferences to determine which type of suspension best suits your requirements.
Component Options:
Look for Mustang II Front End Conversion Kits that offer multiple component options to tailor your classic car or truck to your personal preferences. Options such as stock or drop spindles, coilovers or airbags, power or manual steering rack, plain or drilled and slotted rotors, and choice of bolt pattern gives you more customization to achieve the front end system that is perfect for your needs.
Ease of Installation:
Unless you are an experienced mechanic, choosing a conversion kit that is relatively straightforward to install is crucial. If you are unsure about the installation, consider seeking professional help from a qualified mechanic or a reputable automotive shop.
Warranty and Customer Support:
A reliable Mustang II front end conversion kit should come with a warranty that covers manufacturing defects and faulty components. Additionally, check if the manufacturer or supplier offers excellent customer support. Having access to knowledgeable and responsive customer service can be valuable, especially if you have questions or encounter any issues during the installation process. You can always Email or call us, and we'll be more than happy to assist any way we can.
Simplifying the Mustang II Front End Conversion Kit Decision Process:
Investing in a Mustang II front end conversion kit is a significant decision that can elevate your classic car or truck to a whole new level of performance and driving experience. By considering compatibility, component quality, suspension geometry, adjustability, component options, ease of installation, and warranty and customer support, you can confidently select the right conversion kit for your vehicle. With the right kit in hand, you'll be well on your way to transforming your classic ride into a modern marvel that turns heads and conquers the road with style and confidence. Email us or give us a call, and we'll be more than happy to assist you with your Mustang II Front End Conversion Kit, whether it be determining compatibility with your classic car or truck, exploring different component options, or help with the installation process. We are always here to help!
Use discount code BLOG10 for 10% off your next order!